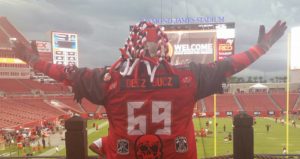 Ahhh, SWEET VICTORY…it feels good doesn't it, Bucs Nation? My food tastes better. The air smells sweeter. The sun shines brighter. A Buccaneers win on Sunday makes Mondays tolerable. Enjoyable even. Strolling into work, excited to walk in with your chest out and chin up, bragging about your winning team. Standing around the "water cooler", ragging on your buddy's loser team. It almost makes work…fun. It makes the days in between games a little less annoying.
While I am reveling, even basking in the glow of these wins as much as any other Bucs fan, I'm also keeping my enthusiasm somewhat contained. Don't get me wrong, I love that this team has won two in a row. Even more so, I love that they've won two games in a row on the road. However, they were wins against teams with a combined 2-10 record. Not exactly elite competition. That said, I do realize that one was a division win and the other was an always elusive West Coast win. So, despite their records they were big wins…I'm just not booking my Houston hotel room for the Super Bowl just yet.
With that win in San Francisco, the Bucs pulled to 3-3 for the season and are just a half game behind the Falcons for the NFC South. Now they come home for a three game stint and a chance to get on a real winning streak. That's where WE BUCS FANS come in. The Bucs haven't won a regular season game at home since December 6 of last season when they beat the Falcons 23-19…and WE BUCS FANS should take some responsibility for that.
On Sunday, the 5-2 Oakland Raiders come to town. Like the Bucs, they're a young, talented, up and coming team and it
should be one hell of a matchup. But I'll leave the "ins and outs" of that matchup to my fellow WTB writers. I want to talk about possibilities. The possibility of beating the Raiders this weekend. The possibility of beating the Falcons, AGAIN, the following Thursday night on primetime television. The possibility of beating a struggling Bears team after a long week of rest. Three straight home games and the possibility of three more wins means a five game win streak, putting them at 6-3 going into a tough game with the Chiefs in one of the NFL's toughest venues.
My last WTB article was about "The 12th Man" theory and was written after witnessing two straight heartbreaking, gutwrenching losses from my south endzone seats in Raymond James Stadium. I said it then and I'll say it again, WE BUCS FANS  need to show up! WE BUCS FANS  need to be loud! WE BUCS FANS  need to show this football team that we're behind them all the way! WE BUCS FANS  could be the difference between winning or losing these next three games! Some of you may disagree with me. Some of you may think that this team owes you a better product on the field before you go all out in the stadium and all in on the Bucs. I say they go hand in hand. The Bucs need us to perform better in the stands just as much as we want them to perform better on the field.
This team is close to turning the corner and WE BUCS FANS  can help them. This team is young and talented, but confidence means everything to them. They've won two in a row and they're starting to believe. Believe in themselves, their systems, their head coach and his philosophies and most of all in each other. This team could be at a turning point for this season, but not just a turning point…THE  turning point.
After this home stand, the schedule gets difficult. It starts with the deafening road test in Arrowhead with the 4-2 Chiefs. Then back home for the 4-1-1 Seahawks. Then another West Coast road trip to play the surging 3-4 Chargers. After that, it's back home for a division game against the always dangerous Saints. Then it's off to the house that Jerry built to play the surprising 5-1 Cowboys before the final division road game versus the Saints in the Big Easy. As you can see, these next three home games are important. So let's show up, and I mean REALLY show up, and see what happens. If this team is "on the verge", we have a chance to be a big part of it.
On Monday, Coach Koetter said "We haven't won yet at home this year and we as a team have to do our part in making Ray Jay a place where opposing teams don't wanna play, but we need the crowd's help on that too". He went on to add  "We gotta play better at home, but the other thing is we gotta keep the opposing fans out of that lower bowl. So,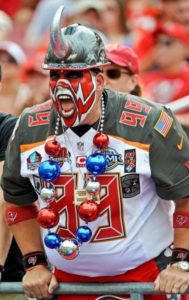 let's rock that place on Sunday!". Koetter is right. WE BUCS FANS  cannot let opposing fans out cheer us. WE BUCS FANS  cannot let the opposing fans take over OUR stadium. WE BUCS FANS  cannot give up home field advantage. WE BUCS FANS  cannot let this team down. The Raiders are coming. Raider Nation is coming. Are WE BUCS FANS  going to be ready for them?
The Admiral of this ship has spoken. He needs us. Captain Jameis and Captain G-Mac need us. The Buccaneers need us…ALL OF US! So, batten down the hatches. Hoist the sails. Raise the red flags. Fire the cannons. Defend the Bay. Siege the day. It's time to pillage and plunder. It's time to punch the Raiders square in their unpatched eye. Are we ready? Yeah, I think WE BUCS FANS  are ready.
GO BUCS and GO BUCS NATION!!!